Components & MOA

Elias, 41, UNDETECTABLE.
Switched to BIKTARVY in 2018.
People featured are compensated by Gilead.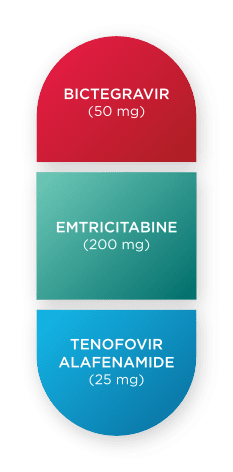 Bictegravir, the #1 prescribed INSTI for HIV treatment2,†
Novel and unboosted3
Long plasma half-life of 17.3 hours1,‡
Long integrase binding half-life of 38 hours in vitro4,§

— The clinical relevance of these data has not been established
A DHHS-recommended backbone
DESCOVY (FTC/TAF*) is a dual-NRTI that can be used as a backbone in 3 DHHS-recommended initial regimens for most people with HIV
DESCOVY is backed by over 4.1 million patient-years of experience2,||
BIKTARVY is DHHS recommended as an initial regimen for most people with HIV-15
TAF Provides Targeted Delivery of Tenofovir to HIV-Infected Cells1,6-8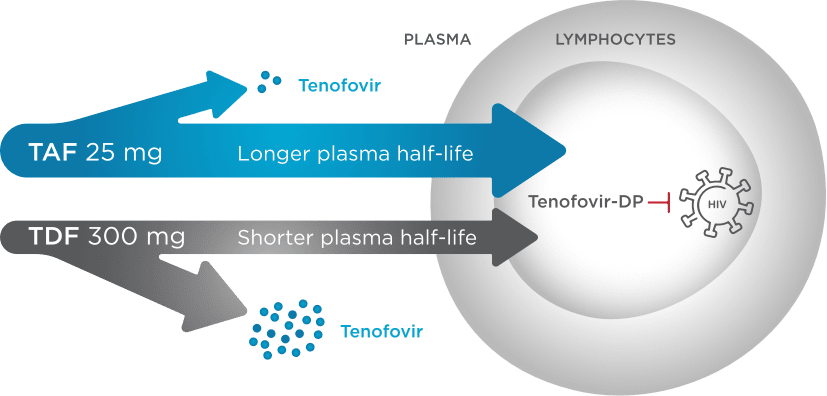 BIKTARVY contains TAF,¶ a novel prodrug of tenofovir (TFV) that efficiently delivers tenofovir into HIV-1 infected cells, including lymphocytes1,6
TFV in the plasma is eliminated from the body through renal excretion6
BIKTARVY is not recommended in patients with severe renal impairment (estimated CrCl <30 mL/min) except in virologically suppressed patients with CrCl <15 mL/min on chronic hemodialysis. BIKTARVY is not recommended for patients weighing ≥14 kg to <25 kg with CrCl <30 mL/min1
Less tenofovir in plasma
Tenofovir levels in plasma were up to 90% lower with TAF vs TDF6
A Dual-NRTI Backbone Is an Important Part of a Complete Regimen1,5,9-14
Triple therapy that combines a dual-NRTI backbone with an INSTI inhibits viral replication and can reduce the risk of ARV resistance5,9,10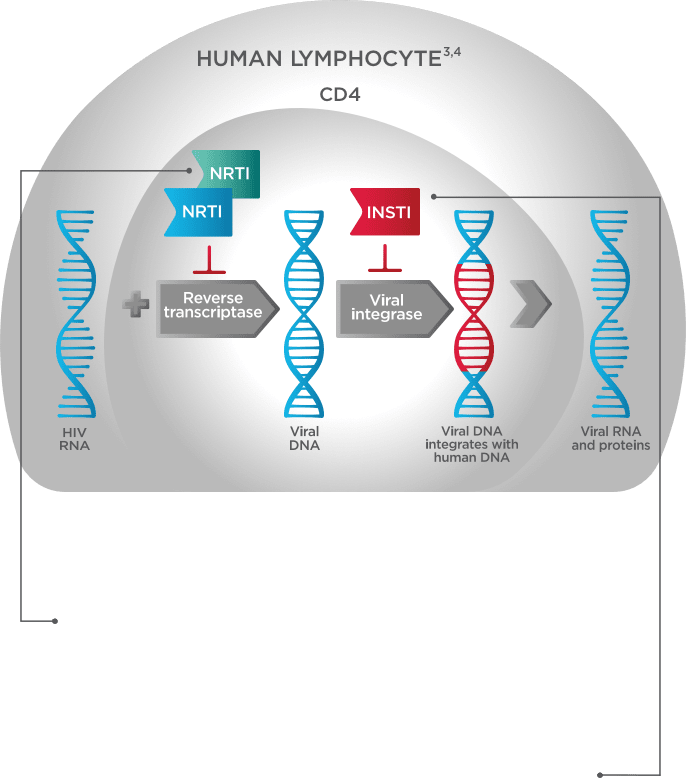 The two components of a dual-NRTI backbone# have been shown in vitro to work synergistically to block reverse transcriptase5,12-14
The third agent, an INSTI, inhibits the integration of viral DNA with human DNA1
#DHHS guidelines recommended dual-NRTI backbones include: FTC/TAF, FTC/TDF, and ABC/3TC.
*Emtricitabine 200 mg/tenofovir alafenamide 25 mg. †Source: IQVIA LAAD, April 2020 through April 2023. This information is an estimate derived from the use of information under license from the following IQVIA information service: IQVIA LAAD, for the period of April 2020 through April 2023. IQVIA expressly reserves all rights, including rights of copying, distribution, and republication. ‡Plasma half-life: the time for the plasma concentration of bictegravir to fall to half its original value. §Integrase binding: the residence time of bictegravir on the integrase-DNA complex. ❘❘Estimated postmarketing exposure for all TAF-containing HIV products, cumulative to January 31, 2022. Patient-years estimate based on sales data, which may overestimate actual exposure. ¶As part of the FTC/TAF backbone; emtricitabine 200 mg/tenofovir alafenamide 25 mg.
3TC, lamivudine; ABC, abacavir; ARV, antiretroviral; CrCl, creatinine clearance; DP, diphosphate; DHHS, US Department of Health and Human Services; FTC, emtricitabine; INSTI, integrase strand transfer inhibitor; MOA, mechanism of action; NPA, National Prescription Audit; NRTI, nucleoside reverse transcriptase inhibitor; STR, single-tablet regimen; TAF, tenofovir alafenamide; TDF, tenofovir disoproxil fumarate.
References: 1. BIKTARVY. Prescribing information. Gilead Sciences, Inc.; 2022. 2. Data on file. Gilead Sciences, Inc. 3. Tsiang M, Jones GS, Goldsmith J, et al. Antiviral activity of bictegravir (GS-9883), a novel potent HIV-1 integrase strand transfer inhibitor with an improved resistance profile. Antimicrob Agents Chemother. 2016;60(12):7086-7097. 4. White K, Niedziela-Majka A, Novikov N, et al. Bictegravir dissociation half-life from HIV-1 G140S+Q148H integrase-DNA complexes. Poster presented at: Conference on Retroviruses and Opportunistic Infections; February 13-16, 2017; Seattle, WA. Poster 497. 5. Panel on Antiretroviral Guidelines for Adults and Adolescents. Guidelines for the use of antiretroviral agents in adults and adolescents with HIV. Department of Health and Human Services. Updated May 26, 2023. Accessed June 26, 2023. https://clinicalinfo.hiv.gov/sites/default/files/guidelines/documents/adult-adolescent-arv/guidelines-adult-adolescent-arv.pdf 6. Ruane PJ, DeJesus E, Berger D, et al. Antiviral activity, safety, and pharmacokinetics/pharmacodynamics of tenofovir alafenamide as 10-day monotherapy in HIV-1 positive adults. J Acquir Immune Defic Syndr. 2013;63(4):449-455. 7. Margot NA, Ram RR, Abram ME, Haubrich R, Callebaut C. Antiviral activity of tenofovir alafenamide against HIV-1 with thymidine analog mutation(s) and M184V. Poster presented at: Conference on Retroviruses and Opportunistic Infections; March 4-7, 2018; Boston, MA. Poster 560. 8. Lee WA, He G-X, Eisenberg E, et al. Selective intracellular activation of a novel prodrug of the human immunodeficiency virus reverse transcriptase inhibitor tenofovir leads to preferential distribution and accumulation in lymphatic tissue. Antimicrob Agents Chemother. 2005;49(5):1898-1906. 9. National Institutes of Health. The HIV life cycle. Updated August 4, 2021. Accessed April 21, 2022. https://hivinfo.nih.gov/understanding-hiv/fact-sheets/hiv-life-cycle 10. National Institutes of Health. FDA-approved HIV medicines. Updated April 5, 2022. Accessed April 21, 2022. https://hivinfo.nih.gov/understanding-hiv/fact-sheets/fda-aproved-hiv-medicines. 11. Laskey SB, Siliciano RF. A mechanistic theory to explain the efficacy of antiretroviral therapy. Nat Rev Microbiol. 2014;12(11):772-780. 12. Callebaut C, Stepan G, Tian Y, Miller MD. In vitro virology profile of tenofovir alafenamide, a novel oral prodrug of tenofovir with improved antiviral activity compared to that of tenofovir disoproxil fumarate. Antimicrob Agents Chemother. 2015;59(10):5909-5916. 13. Feng JY, Ly JK, Myrick F, et al. The triple combination of tenofovir, emtricitabine and efavirenz shows synergistic anti-HIV-1 activity in vitro: a mechanism of action study. Retrovirology. 2009;6:44. 14. Ray AS, Myrick F, Vela JE, et al. Lack of a metabolic and antiviral drug interaction between tenofovir, abacavir and lamivudine. Antivir Ther. 2005;10(3):451-457.